OmniIndex in Berlin – an IFA & StartupNight Review
Now that the OmniIndex team have returned from their trip to Germany for StartupNight and IFA, it is time to look back on those whirlwind few days and reflect.
It is fair to say that the OmniIndex team arrived in Berlin with some trepidation about what to expect because of the 'consumer' aspect of the technology showcase. After all, OmniIndex are data specialists and we do not have a physical shiny product to showcase. What's more, while we do have some individual consumers, we are predominantly focussed on selling our Web3 and FHE solutions to fellow businesses as opposed to the over 100,000 visitors who participated in these two events at the start of September.
This was a particular concern for Matt Bain as he was the one tasked with designing our exhibition spaces and getting our message out to the world.
"The task of marketing a Data Platform in a Hall full of physical products was not just something on my mind, but also of those around us!" Reports Matt. "Indeed, one evening as we were packing things up for the night, a fellow exhibitor came over and brought me a small glass of their beer that they'd been handing out alongside their product demos and offered me their sympathies over the challenge of not having something like pints to show off."
Nonetheless, we arrived with suitcases full of banners, flyers and notebooks to give away covered in Web3 art to showcase our message and so we were as prepared as we were ever going to be! What's more, we had our secret weapon: A smile!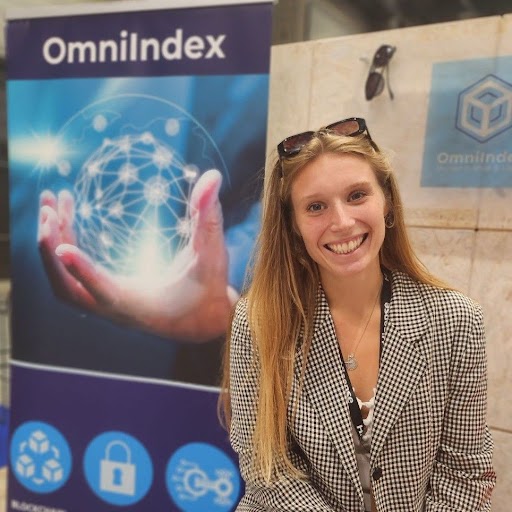 Fortunately, any lingering fears and nerves we had quickly left the team as we walked through the many, many, halls of IFA to reach our own stand in the startups Hall (IFA Next) as we were seduced by the array of products and ideas that surrounded us on all sides. 
And, the more we saw, the more our own Head of Product James Stanbridge found to be encouraged by:
"It was so exciting to see so much technology being brought to market that is going to positively impact people's lives and happiness. It was also super encouraging that 99.9% are going to need privacy and security at a user data level (also known as web3.0) which is our super power!"
This early hope was quickly confirmed by the number of meeting invitations we were receiving from our fellow exhibitors – particularly our peers in Hall 27 who were looking for secure infrastructure to help launch their ideas in healthcare, sportstech, and almost every other area imaginable!
Indeed, Business Development Manager Lucy McKechnie was at the heart of it all and making the most of every opportunity available.
"IFA couldn't have been a better environment for B2B networking opportunities. Representatives from varying organisations were thrilled to hear about the OmniIndex software, with a general consensus that the complete prevention of Ransomware attacks and the ability to run analytics on encrypted data offered greater peace of mind and more flexibility in data usage than any other solution they had seen."
And while Lucy was back at IFA central following up on leads and the meeting requests, our CEO Simon Bain and James Stanbridge headed across the city to StartupNight at Deuteche Telekom's Representative Office in the heart of Berlin where we had been given a free stand from the organizers and a chance to present our tech on their pitch stage. While it was an event broadly focussed on connecting companies with potential investors, it was a great opportunity for us to talk to fellow innovators in tech and sound out the market for our product with customers – including the investors!
"Startup night was a great setting to mix with and interact with a number of different entrepreneurs." Says Simon, concluding that "being able to showcase and show off in front of prospective customers, angel investors, and VC's is priceless for a startup like OmniIndex as its simply not something you can do without this sort of event."
While that first day ended up being a long one, 8am through to midnight, it was a fantastic induction into the experience with the whole team given encouragement that we were in the right place and with a product that people actually needed. And as the 5 days continued, this was continually proven with initial meetings turning into follow ups and technical discussions around onboarding.
Time will tell if we get any new customers out of these 5 days, but Lucy sums it up best, saying
"The OmniIndex team walked away with great satisfaction and several exciting new leads in the pipeline. Everyone should be watching us carefully over the remainder of the year, as if IFA and StartupNight have shown the world anything, its that our solutions are needed by even more industries than even we had expected."